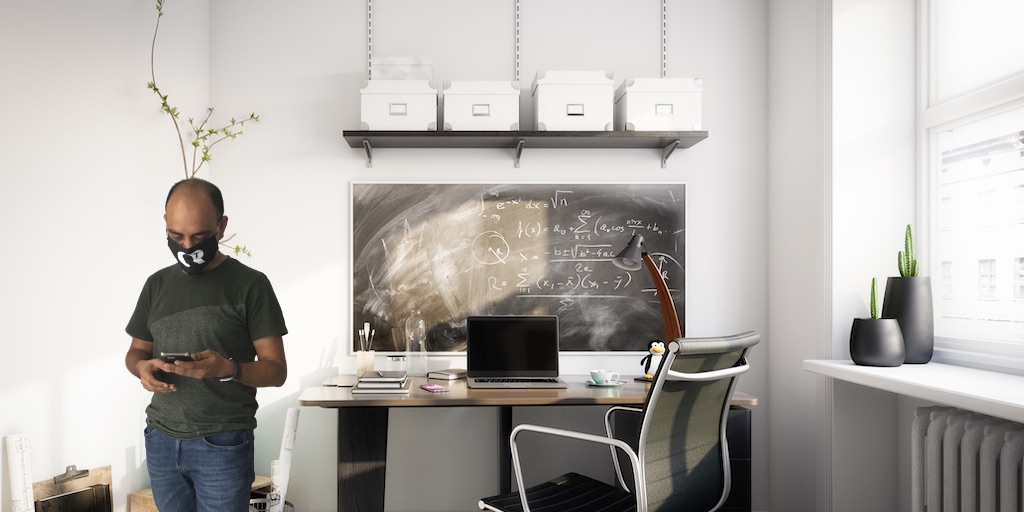 How AWS is responding to diverse consumer and business demand in this horrific pandemic?
COVID-19 is a lethal pandemic. It has claimed many lives—approximately 700,000 people and counting. Nearly 95% of the US population has been affected by stay-at-home orders. In our modern information age, even the most pessimistic did not expect such a large-scale, pan-global disaster.
The effects of this devastating pandemic on businesses are mixed; while some businesses have triumphed in this pandemic, demonstrating unbelievably high growth rates, others are facing a grievous assault on their survivability—leave alone attaining profitability. But those who saw opportunities instead of adversities have been able to taste success mainly through technology enablers. These companies that have outperformed the others have been careful, as well as quick, to adopt technology enablers to drive their success.
In this tragic pandemic, opportunities arose suddenly; nevertheless, the few smart companies swiftly adopted the right enablers as sound strategy and investment to succeed.
This series of blogs highlights the sectors that outperformed in this meltdown and the real technology drivers behind their success. With this, I also want to share some of our real-life customer experiences and how AWS service offerings acted as excellent enablers.
In the tech-enabled sectors, e-commerce, VCaaS (Video Conferencing as a Service), Streaming, Gaming, and edTech are among the biggest winners. This blog focuses on eCommerce, will cover other sectors in coming blogs.
Today's consumers see e-commerce as regular commerce
Even in COVID times, consumers want more—better service, higher attention to detail, faster delivery, and superior quality at value pricing. Most consumers do not even see the "e" in e-commerce; for most of us, e-commerce is just commerce. We instinctively reach out to e-commerce portals as our first go-to option, at least to check pricing and product ratings, because e-commerce companies have successfully built consumer communities in which consumers call the shots. These communities nurture interdependence among consumers through ratings, QA's, and recommendations.
Without question, in these catastrophic times, reputed e-commerce portals for most consumers have emerged as life-changing commerce enablers.
As consumers and businesses around the world flock to online platforms, e-commerce has experienced a massive boom. Daily needs or health equipment, consumer goods or shopping for hobbies, study materials or novels, there is hardly any e-commerce sector that is not in demand.
Nonetheless, for these companies, it has been a problem of plenty. Given their Omnichannel support, the jump in demand during lockdown has led to all funnels overflowing. Technically speaking, most cloud vendors offer rapid scalability. But at what cost? At what performance levels? Will the cloud continue to be secure on a larger scale? These tough questions demand convincing answers.
What businesses expect from their cloud vendor in this global pandemic?
The pandemic aside, businesses expect the usual service parameters that they would expect from a reliable cloud vendor.
Scale and Reliability
Optimized Cost
Performance
Security
These expectations are like demanding timely pizza deliveries—even in a flood or an earthquake.
In his article AWS, COVID-19, And The Need For Speed In Time Of Crisis in Forbes.com, Patrick Moorhead tells us how Amazon is responding successfully to pandemic-related volatilities. This success is demonstrated by how Amazon's cloud division has performed financially. It has achieved an astounding 33% year-on-year growth during this perilous period.
How Amazon created the unbeatable solution with AWS
In this section, you will see how AWS remains a reliable backbone for businesses experiencing stress in this cataclysmic pandemic.
Is scalability that simple?
The first demand e-commerce platforms have had to reckon with is scale and reliability. You read earlier that this pandemic has wreaked havoc on demand. You may argue, "Hey! The cloud is all about scalability. Where's the problem?" But what we forget is that the nature of scale which e-commerce companies or those supporting e-commerce can be completely different.
For instance, one of our partners provides a notification engine for 20k + stores on a leading SaaS platform offering online store for any seller. The notification load generated is extremely spiky and unpredictable. On a typical day, notification count can easily reach 300 million +. The only way to handle such unpredictable spiky load is by rolling out extremely scalable & reliable server-less services and/or containerized apps. With lean development team, AWS native serverless services became the natural choice. With Serverless APIs and distributed tracing, production workload is easily manageable.
More specifically, the AWS enablers included the following features and services:
A Resilient Server-Less Stack
Server-Less DB Services
Matured Managed Container Orchestration and Management Services platform (ECS, EKS)
Scalable and reliable PAAS offerings covering critical areas for e-commerce App-Caching, Document Search, Event-Streaming, Analytics, etc.
What about cost?
Scalability and reliability should come at affordable cost, which is the biggest challenge on any cloud platform. This is the next hurdle for businesses experiencing load spikes.
Although services like API calls, accessing metrics, and data out sound as though they are almost free, this misconception vanishes quickly with scale. Based on our experience, for a   100k+ monthly bill, I can confidently say the contribution of these so-called low-priced components is easily 10–20% of the overall bill.
The AWS offerings that fulfilled this critical need are listed here:
Services identifying Under-Utilized Resources- Trusted Advisor, Compute Optimizer
Flexibility to stop or start Expensive Services on the fly—without risking data integrity
Even databases start and scale on the go
Reserved Instances/SpotFleet/Saving Plans to reduce cost drastically
Various pricing models for Object, Block, and Filestore
An in-depth Cost Analysis Report using tags
Does low cost affect performance features?
Consistent performance is of paramount importance as the system scales to accommodate the additional load. AWS met this challenge remarkably well.
So what specific AWS features contributed to this solution?
Global and Regional services like CDN; Multi-Region Canary Deployments using advanced deployment services
Wide range of instance types optimized for different use cases.
The customer could achieve unbelievably high Performance Benchmarks
As evidence, I'm extremely proud to share a customer experience. Our customer was a Microsoft house with Azure as the obvious cloud choice for cloud migration. However, we not only helped them to host 10+ applications on AWS but also configured an "Always On"/"Active-Active" MSSQL server with multi-region DR .
Customer had a unique need of loading large volume in extremely short time during peak hours. Since applications were carrying lots of legacy stuff, code refactoring or redesigning app was not an option. We were targeting sustained IOPS of 9000 that could reach 250,000 during peak. AWS provisioned IOPS was unviable as overall monthly cost would have really gone through the roof. Thanks to AWS for the wide range of server class, in this case we had an unconventional choice, using a Bare Metal i-Series with NVMe. Certainly this is something no one will risk or imagine in a traditional data centres—not even in other cloud providers. Yet, with a fully recoverable solution, we helped this customer set up a MS SQL Server, offering highest throughput and fastest response in a cost-optimized manner.
Are cloud platforms secure?
Finally, rich functionality and superior performance are useless without ironclad cybersecurity. Cybersecurity is vital for your customers because it promotes the trust needed to engage in financial transactions online.
We have seen big companies, with a strong foothold in their sector, losing more than 50% of their customer base within a few days of a publicly exposed vulnerability. Also, gone are the days when merely protecting apps from the top OWASP vulnerabilities ensured security. Today, because a threat signature changes very fast, it's vital to have an ML / AI-enabled predictive model to trace threats as early as possible.
So, how does AWS address cybersecurity? From subnet- and resource-based security settings to the latest compliance templates, AWS has everything to mitigate the myriad cybersecurity threats lurking online.
The specific AWS offerings for robust e-commerce security include,
Managed services for tokenized API Authorization
A "Secrets Manager" to keep any confidential information out of servers
Certificates and Key managers
Automated "Inspectors" jobs
"Macie" for Machine learning and Pattern matching
Firewalls using filly managed services- "WAF" & "Shield"
"GuardDuty" to continuously monitor and detect malicious activity
In a nutshell, the AWS security service portfolio is unmatched with it's state-of-the-art, continually upgraded cybersecurity features.
Based on the statistics and specifics presented in this Blog, I conclude—without a doubt—that AWS is a reliable, affordable cloud-computing option for businesses of all types and sizes. Amazon does it again, with its reliable and cost-sensitive AWS offerings.